This is a free giveaway from one of my friend's blogger who blogs at Technicalathma. He is offering new Microsoft ARC Touch Mouse as a free giveaway for anyone interested in getting it.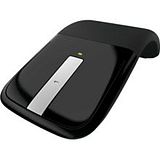 What to do to get it…
The criteria you must meet before you can be able to get this quality mouse has been explained on the FREE MOUSE GIVEAWAY page, you just need to go there and get the mouse.
It is absolutely free to get once you meet the criteria and please make sure to share the page and link to it on your twitter page as this is just a tip for you to be the winner of the mouse.
[Image Source]